Start > Compositions >
Hafabra
Premier Concerto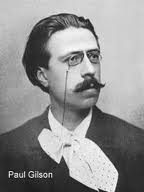 Paul Gilson's Premier Concerto from 1902 is one of the first compositions for saxophone. The Belgian composer used all the typical characteristics of the instrument, such as its powerful tone, suppleness, virtuosity and warm sound. Tom de Haes has created a reconstruction based on the partly missing original version for concert band, the piano score and the version for symphony orchestra.
Publisher
Scherzando Music Publishers, P.O. Box, CH-6332 Hagendorn, Switzerland
Instrumentation
Alto Saxophone and Concert Band
Year
Publication Number
Difficulty
Length
2014
1955-14-010 S

16'25"
CD Recording
Concert Band:
Second to None, Nagoya University of Arts Wind Orchestra conducted by Jan Van der Roost, DHR 04-044-3, 2014
copyright - tom de haes - 2017