Start > Compositions >
Music for Wind Band
White Winged Flight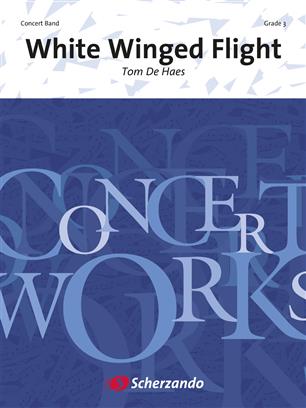 Tom De Haes was commisioned to write
White Winged Flight
for Moza´ek, the cultural collaboration of the Belgian municipalities Bonheiden, Duffel, Putte and Sint-Katelijne-Waver. It was composed especially for the closing concert in 2016, where all musicians from the eleven music societies of these towns shared the stage. All of the musical themes in this composition start with the same four notes, but each time appear in a different order. These four tones were derived from the first letter of the municipalities.
The title refers to the white-winged flight of a peace dove. The work represents a warm-hearted appeal to join hands, it is also a call for reconciliation and peace. Music brings people together, and it brings the best out of them. In times of terror, war and racism, our world is in need of positivity more than ever. Musicians from around the world unite and send a message of peace whilst performing
White Winged Flight
.
Publisher
Scherzando Music Publishers, P.O. Box, CH-6332 Hagendorn, Switzerland
Instrumentation
Concert Band - Fanfare Band
Year
Publication Number
Difficulty
Length
2016
2048-16-010 S

11'45"
CD Recording
Concert Band:
Winds on Fire, The Royal Netherlands Army Band 'Johan Willem Friso', DHR 02-060-3, 2016
copyright - tom de haes - 2017